4.25 Second Chance Stars
Book 2 of the Kelly Brothers Series, but can be read as a stand-alone. I haven't read Book 1 yet.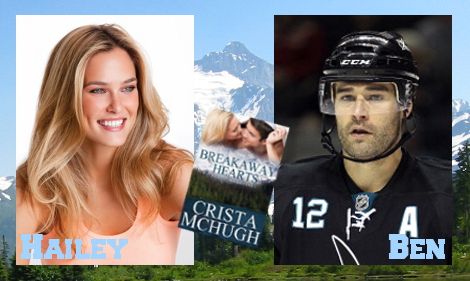 While attending a Vancouver Whales hockey game Ben Kelly (19) meets Hailey (18). She definitely got his attention with her tall & slender body, beautiful blue eyes & smurf blue hair. During the game she really impressed Ben as she rattled off hockey stats. She must love hockey almost as much as he does. Sparks fly when they are caught by the Kiss Cam & share their first kiss. The night ends in Ben's hotel room with unforgettable sex. When Ben wakes up the next morning to a cold empty bed he really regrets not getting Hailey's number or her last name.
Ben (now 28) the six-four, 240 lbs, black hair & blue eyed NHL goalie, has just injured his knee.


Since he's out for the rest of the season he decides to rest up in Cascades, BC. Questioning wether this injury will end his career he finds his way back to the ice. During his 1st visit to the local rink he spots a player with some great moves & a killer slap shot. After getting a closer look he discovers the player is female & looks very familiar. A hockey players memory can be spotty from all the concussions, but he knows he has met her before...but where?
Hailey (now 27) is a waitress at her fathers bar, but her ultimate goal is to make the Women's Olympic Ice Hockey Team. She has been training hard everyday in order to keep a promise she made to her deceased son. Hockey is her outlet & a way to help with her grieving, so nothing matters more to her then making that team. She can't believe it when Ben Kelly walked into her rink after 9 years & then acted like he didn't even know her at all.
Once Ben figures out how he knows Hailey (who's hair is now blonde) will she give him a second chance? Will they still have that undeniable chemistry in the bedroom? What about Hailey's big secret of a deceased son - Will that be a deal breaker?
I loved this & would recommend it to Sports Romance Fans. I'm not really a hockey fan, but you don't have to be in order to enjoy Ben & Hailey's story.
Why Not 5 Stars? I think the ending was a little rushed.
(show spoiler)
This was my 1st Crista McHugh book & I'm definitely looking forward to reading more from her in the future.
The next book in the Kelly Brothers Series is Falling for the Wingman expected to be released March 3rd. This will be Caleb the Air Force Pilots story. Can't Wait!
***Won a signed copy via a First Reads Giveaway***