3.75 Meant For Each Other Stars
BR with Sue, Wendy, Melissa, Patty, Lisa Jayne, Rebecca & Anesha
https://www.goodreads.com/topic/show/1654021-buddy-read-of-the-fine-line-jan-17-19-2014-please-join-us
This is a standalone with a HEA.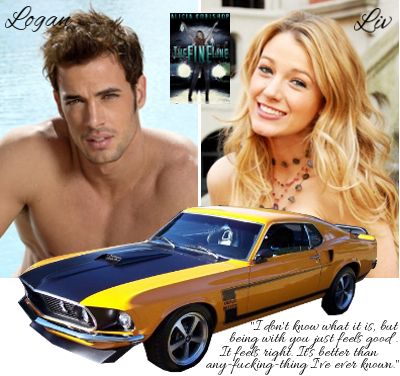 Liv Evans (17) has been disappointed by men too many times. 1st her dad walks out on Liv & her mom. Then over the years Liv became close with two of her mom's boyfriends. They became father figures/friends & she had the bond she desperately craved right up until they left too.
"Why does everyone I love have to leave?
Never again. I'm done. This is the last time I will ever have this feeling."
To avoid ever feeling heartbroken again Liv decides No Relationships.
"Some people wear their hearts on their sleeves. I learned a long time ago that preserving one's heart means keeping it protected. Sheltered. My heart is hidden deep within the secure layers of my soul, where it rests easy with the knowledge that nothing can penetrate its everlasting impervious shell."
Having never felt a strong connection with any guy her plan has worked so far, right up until she meets Logan Tanner (19) at River Fest. Logan & Liv have an instant attraction that can't be denied, but Liv can't let him get too close.
"I would not allow myself to be flustered by any boy. Even if he did have the most incredible eyes I had ever seen."
Since love never lasts & it's not worth the heartbreak she & Logan should just be friends. Logan knows what he wants, will he be able to convince Liv to take a chance at love?
I loved Logan! Did I mention he is a street racer? He has Dark Brown Hair, Hazel Eyes, Full Sexy Lips & a Hot Muscular Body.
My favorite part is the suspenseful ending! I was not expecting that twist at all.
Why not 5 Stars? I had a hard time relating to Liv. I think if I had read this 10 years ago I would have loved her. I'm in my thirties now with a husband & 2 kids so for me she was just...
At certain points I would have loved to know what Logan was thinking. I couldn't help wondering...Why is he putting up with this?
Would I recommend it? Yes, just go into it knowing Liv is 17
Thanks for the fun & laughs during our BR ladies! xoxo
***ARC provided by author in exchange for an honest review***