I received this novella from the author in exchange for a honest review
Tess Montgomery the almost forty blond cougar & a widow from a sexless 3 year marriage decides to start her life over & move into a 2nd floor apartment in the country.
Chase Cole, who is Tess's much younger landlord quickly falls for Tess but decides not to pursue her & instead the two become best friends. That is until 2 years later during a drunken night out with their closest friends Tess get's called sex-starved. Chase decides to ask Tess to have sex with him. Tess avoids Chase for a few days until she decides to go make-up with him. During the convo she lets it slip that she's in a much better mood since she has "rectified the situation" with "a little battery-operated help". It gets steamy quickly after that!
My casting for Chase: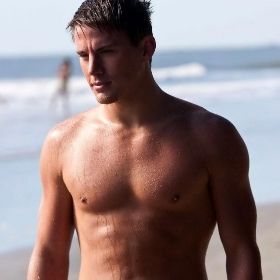 I really enjoyed the playful banter between Tess & Chase. Of course I enjoyed the HOT scene involving the Triple Threat. I loved that Tess is described as having "large breasts, ample thighs, and a body with some give". It's refreshing to read about a heroine who thinks she is flawed be viewed as "sexy as hell" by a much younger man.
I'm looking forward to the next novella in the Old Enough to Love You Series called Giving Up Gage. I hope Tess & Chase pop-up as matchmakers trying to get Roxi & Gage together. I love when characters from previous books have a role in the next story.